Freedom Road - September 23, 1956
The Date They Met
September 26, 1953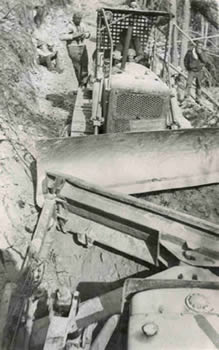 Click to enlarge image.
The two bulldozers came together on this date symbolizing the completion of the Freedom Road. Valley residents recognize this date as the official anniversary date.
Who Were They?
Too numerous to mention. It truly was a community effort, both locally and beyond. Even the people from Ocean Falls helped with fundraising. Bill Graham of Tatla Lake made his D-6 cat and operator available, not knowing for sure if he'd ever get paid. Anahim Lake store owner, Ike Sing, footed many a bill for supplies and stood solidly behind the project, providing whatever was needed.